Posted by AquaTeak on 23rd Jan 2018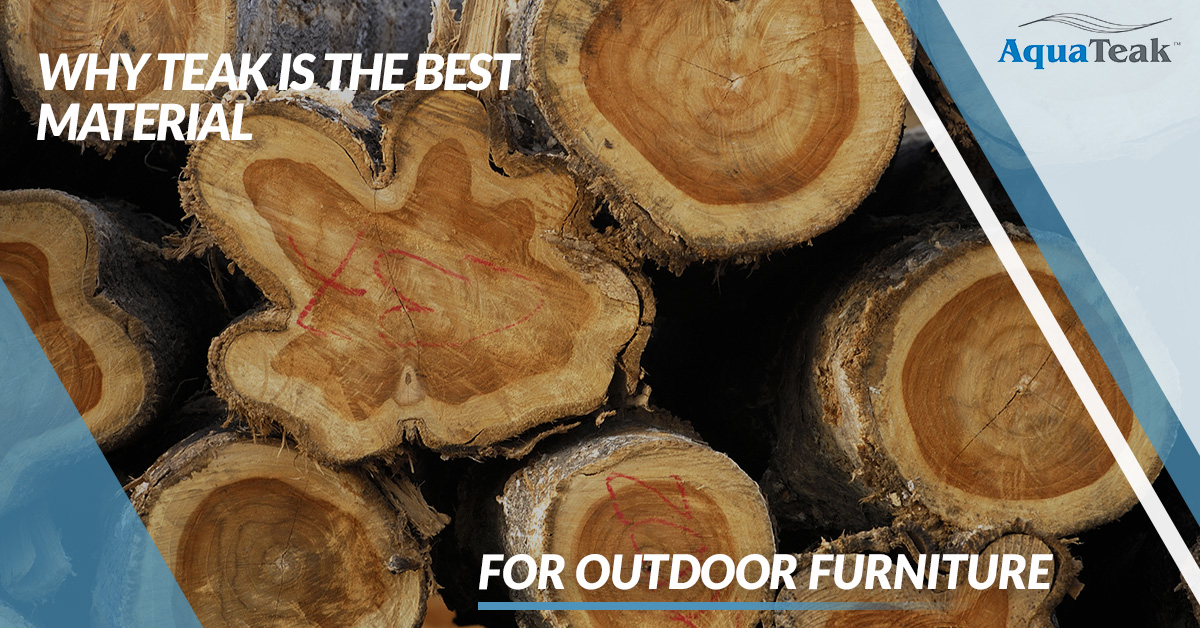 Teak is a beautiful solid, hardwood harvested from solid Indonesian teak trees. Teak wood has an abundance of natural oils that make it waterproof and shiny. Teak has been used on war ships for centuries and used to make high-quality outdoor furniture such as patio sets and pool furniture. Why is teak wood the preferred wood for outdoor furniture? Here, we explore a couple of the main reasons.
Durability
Natural teak is incredible durable and naturally water resistant. It is because of these qualities, teak is the best wood for outdoor furniture. Teak wood does not need to be sealed or stained to make it stand up to the weather. Natural teak wood has a very protective oil that lubricates the wood. It resists water at the same time it provides an appealing, high gloss look. Its natural durability is what ship builders noticed and why it was the chosen wood for ship decks. Over time, teak wood has been used to make luxury outdoor furniture.
Weather Resistant
Teak is one of the hardest strongest, and most durable of the hardwood family. In addition to the oil that makes it naturally water resistant, teak wood is also resistant to warping, cracking, or becoming brittle. All of these qualities make teak wood able to resist the harshest of weather, including rain, hail, and wind. The burning sun also has little impact on the wood, and if the wood ever does appear dry, a simple coat of its own oil will shine it up brilliantly. Because if these qualities, teak furniture is the ideal furniture for spas, poolside, and at ski lodges.
Pest Resistant
The same oils that create the water resistance helps to prevent pest infestation. The oils in teak wood repels against termites and marine borers.
Low Maintenance
One of the best qualities of teak wood is how low maintenance it is. When teak wood is harvested from teak trees, it does not need to be processed, stained or painted. Teak is naturally beautiful and its own internal oils serve to protect it while creating a brilliant shine. The only care recommended is to annually rub a thin layer of teak oil on the furniture to restore its shine.
LifeSpan
Because of all the qualities listed above, teak wood has one of the longest lifespans of all the woods. Teak wood does not splinter or crack over time the way that some other wood does. Because of its strength, it is difficult to break. When you invest in teak wood furniture, you invest in furniture that will outlast you!
There are many benefits to teak wood that make it ideal for outdoor furniture. We think one of the biggest factors is it's natural beauty! Teak wood is beautiful and its honey color doesn't need to be painted over. If you want to invest in the many benefits of outdoor teak furniture, look at the selection AquaTeak has to offer.