Posted by AquaTeak on 5th Mar 2020
All the best ways in which pi is served!
It's pretty amazing that the mathematical sign pi has its own annual celebration on, you guessed it, March 14th (3/14). National Pi Day is commemorated with many pies being eaten, and in your case, perhaps the beautifully crafted pi-shaped teak bench!
AquaTeak showcases the best of the best in premium teak furniture. Choose from a wide array of teak products that look amazing and will make your life better, or at least more organized! From teak benches, teak tables, teak cornhole sets to teak paper towel dispenser and tissue holders, there's an option waiting just for you!
Now join us for a moment as we muse in all things pi!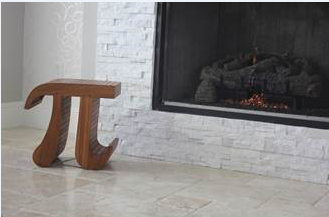 What's all the fuss with pi?
Annual Pi Day was founded in the 80s — 1988 to be exact — by a beloved physicist, Larry Shaw. March 14th was deemed Pi Day because, well, numerically it makes all the sense in the world (3.14 being the first three digits of pi), and pi-incidentally enough, it is also Albert Einstein's birthday!
The inaugural Pi Day was a glorious day for math aficionados — they have to count all their holidays as a win! — and bubbly was popped and fruit pies consumed at the Exploritorium in San Francisco.
Each year this holiday gains a little more traction where there are live streamings of events, but it wasn't until 2009 that the United States got serious about math! 2009 is the date Pi Day became officially recognized as a national holiday, complete with legislation from the US House of Representatives.
Why is the number pi so important?
Back in ancient Greece, Archimedes is known to be the first to calculate pi. Pi is one of the most well-known mathematical numbers and it's the ratio of a circle's circumference to its diameter making pi the distance of the circle's edge a little more than three times the distance across the circle.
While pi is essentially an infinite number, we recognize pi as 3.14 or as the fraction 22/7.
Now that we've brushed up on a little middle school math, let's talk about the sign of pi.
The infamous sign didn't have its famed symbol until 1647, but it wasn't fully embraced until 1737 when Leonard Euler actually used it.
Why was a Greek symbol chosen? The now pi symbol was a Greek letter is an abbreviation of the Greek word for periphery.
Pi is used in many mathematical equations and can be implemented to find:
Circumference of a circle
Area of a circle
Surface area of a cylinder
Volume of a cylinder
Surface area of a sphere
Volume of a sphere
Pi's number is significant to modern-day life because it makes engineering and construction possible.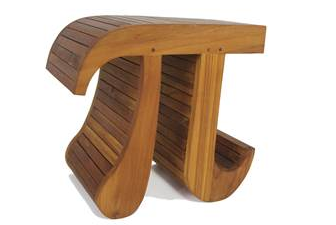 Get your own slice of the pi with AquaTeak!
If you're a pi enthusiast or just have a flair for teak wood, our Pi-shaped bench is the way to merge both! Made from sustainably harvested teak, our teak bench is elegant and unique — just like your home!
Teak is renowned for its water-resistance so this piece would fit beautifully in a bathroom or poolside, but really it would look great anywhere! Next to your fireplace, in a study or office, or even a kitchen or living room.
Our pi-shaped teak wood bench is a perfect size — compact enough to squeeze into tight spaces, but robust enough to hold small trinkets or products for better organization.
You really can't go wrong with this teak wood bench!