Posted by AquaTeak on 18th Jun 2019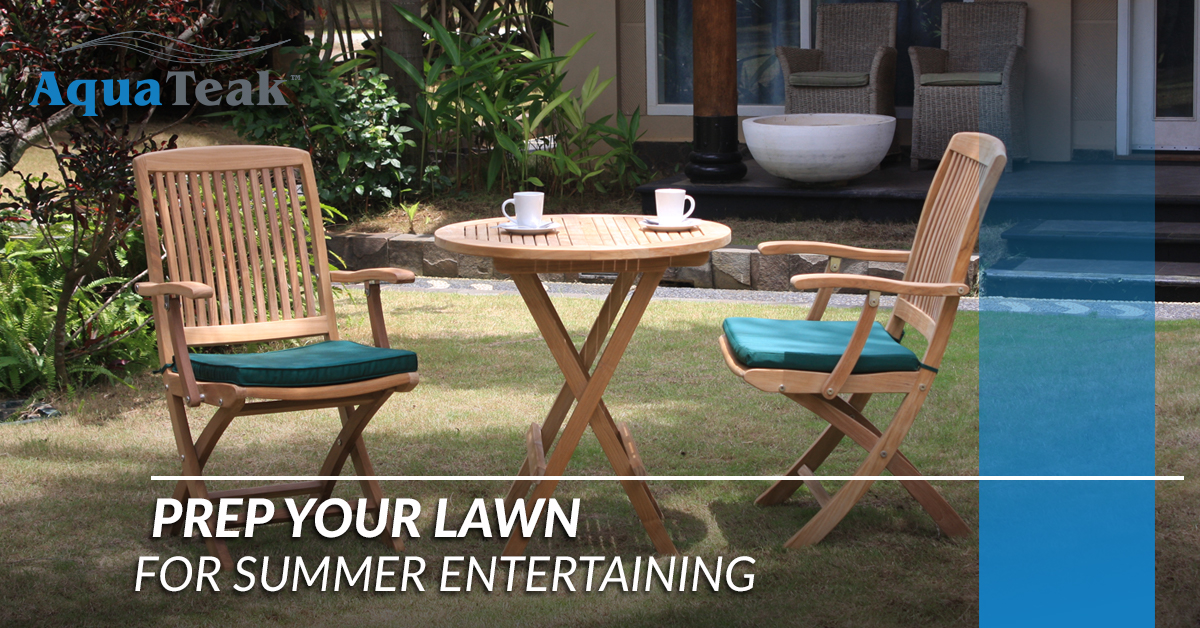 Summer 2019 has arrived across the nation. After what seemed like the longest, most confusing winter ever, the rains are falling, the grass is growing, the flowers are blooming. In a season full of beautiful days and reasons to celebrate, you will undoubtedly have some guests over that you will be responsible for entertaining. The fresh summer air is a perfect reason to get outside and entertain on the deck or on the lawn. Whether you prefer hors d'oeuvre and cocktails on the patio or a full family reunion bar-b-que, you'll need to have your lawn ready!
At AquaTeak®, we pride ourselves on creating beautiful, comfortable furniture that can be used both in and out of doors, in any weather conditions. Handcrafted from all-natural teak wood, our outdoor furniture is naturally weather, sun, and mold resistant, meaning it will look as great at this summer's events as it will for the 10-year reunion! Join us today as we give some of our expert advice on how to prepare your summer lawn for entertaining.
Create the space.
If you have grown a plush, green, croquet-ready lawn, you may not have any qualms about where your guests wander. However, if you or your lawn crew have dedicated your spring to perfectly manicuring your lawn, you don't want guests simply trampling it. If this is the case, you need to designate the space that you want to keep your guests on. You can do this with stepping stones and a defined gathering space like a deck, pergola, or garden seating area, or you can gate, rope, or use garden barriers to define the spaces you don't want people traveling on.
Provide some shade.
While a cool morning brunch or some late evening cocktails may seem delightful when you are planning, you never really know how long people may stay or how intense the sun may decide to be the day of your event. Keep your entertaining successful by keeping your guests comfortable by providing some shade. You can accomplish this with a covered pergola, a canopy on the deck, some sunshades, or some table umbrellas. At AquaTeak, our outdoor tables feature optional umbrellas that serve to provide shade while dining. Not only does shade keep your guests from becoming sunburned, but can reduce the number of pests present and can help keep food and drinks fresher longer.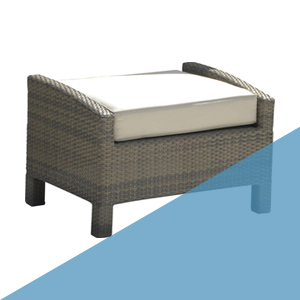 Decorate comfortably.
At AquaTeak, we believe that outdoor furniture should be just as comfortable and luxurious as indoor furniture. We offer a wide variety of collections to fit every style and seating need. Find a comfortable wicker furniture set, a full poolside teak wood patio dining set, luxury lawn loungers, or simple backless bench lawn furniture. Lawn furniture should be comfortable and inviting to encourage guests to congregate and stay.
At AquaTeak, our outdoor furniture is top-quality and offers premium comfort. For durability you can count on at a price you can afford, we put the icing on the cake with free shipping in the US and a 5-year guarantee. Browse our entire outdoor catalog for inspiration for any outdoor arrangement. Visit our online teak wood furniture shop to place your order today!