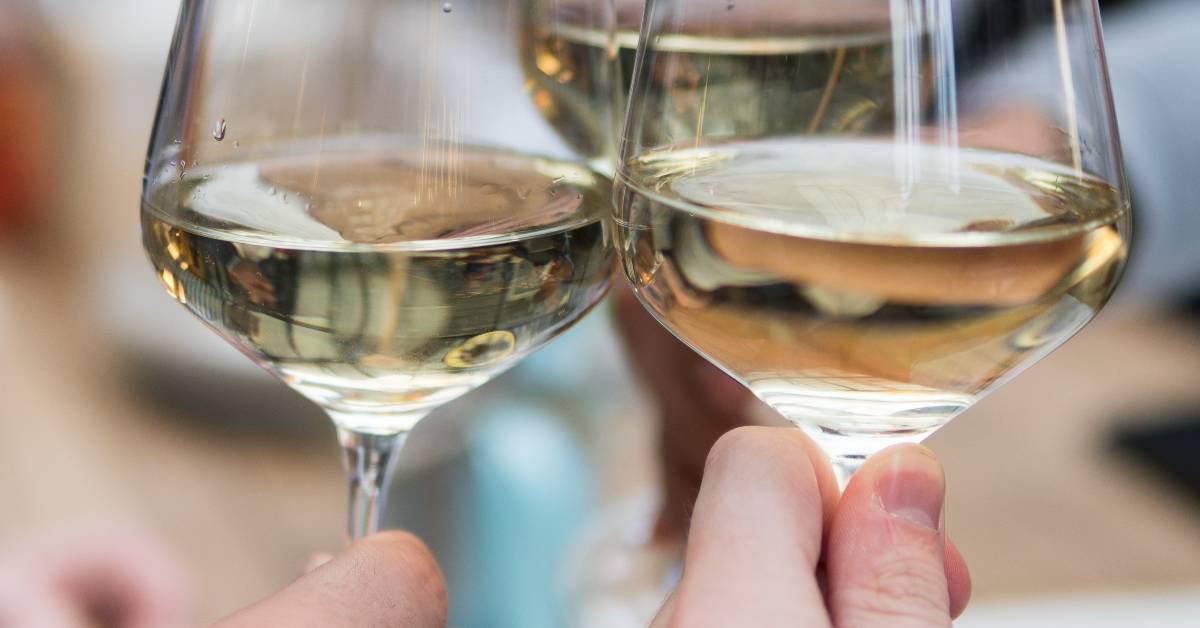 Create a chic and playful home aesthetic with the guidance of AquaTeak!
As the new year approaches, you'll likely be inundated with a variety of ads and media posts targeting the "new year, new you" resolutions. But, what if we took the pressure off of ourselves and invested that energy in creating a home space that uplifts us on our darkest days, and sheds light in the chicest and playful ways?! This is a new year's transformation everyone can get behind!
At AquaTeak, we cultivate eco-conscious teak wood furniture for every home design aesthetics — from modern to minimalist! Approach the new year in a new way when you transform your space with the timelessness of teak in today's post!
Uncover A New Style
Our homes need to be updated, especially if your rooms are still the exact same as ten or more years ago — don't be the house stuck in the not-so-cool "vintage" look, and usher in a fresh, new aesthetic to your home this year.
Sometimes changing up even the smallest things — an end table here or some new throw pillows there — can transform a room and the overall energy it has. Create a home with rooms that everyone loves to be in. Not because they're the fanciest or most expensive, but because they're comfortable, stylish, and the little details were well thought out.
The Versatility Of Teak
Whether you're on the coast or inland, well-made and sustainable teak wood furniture creates a playful and chic vibe for any home style. You can create the California-casual look for your beach home or keep your aesthetic more traditional all with the versatility of teak.
AquaTeak works tirelessly to innovate the teak furniture industry, bringing new life to the material in new ways that revitalize home decor.
Choose the Color Of Teak Wisely
Teak comes in a variety of colors that can add to the look and style of your home, and there are some styles that look better with different stains.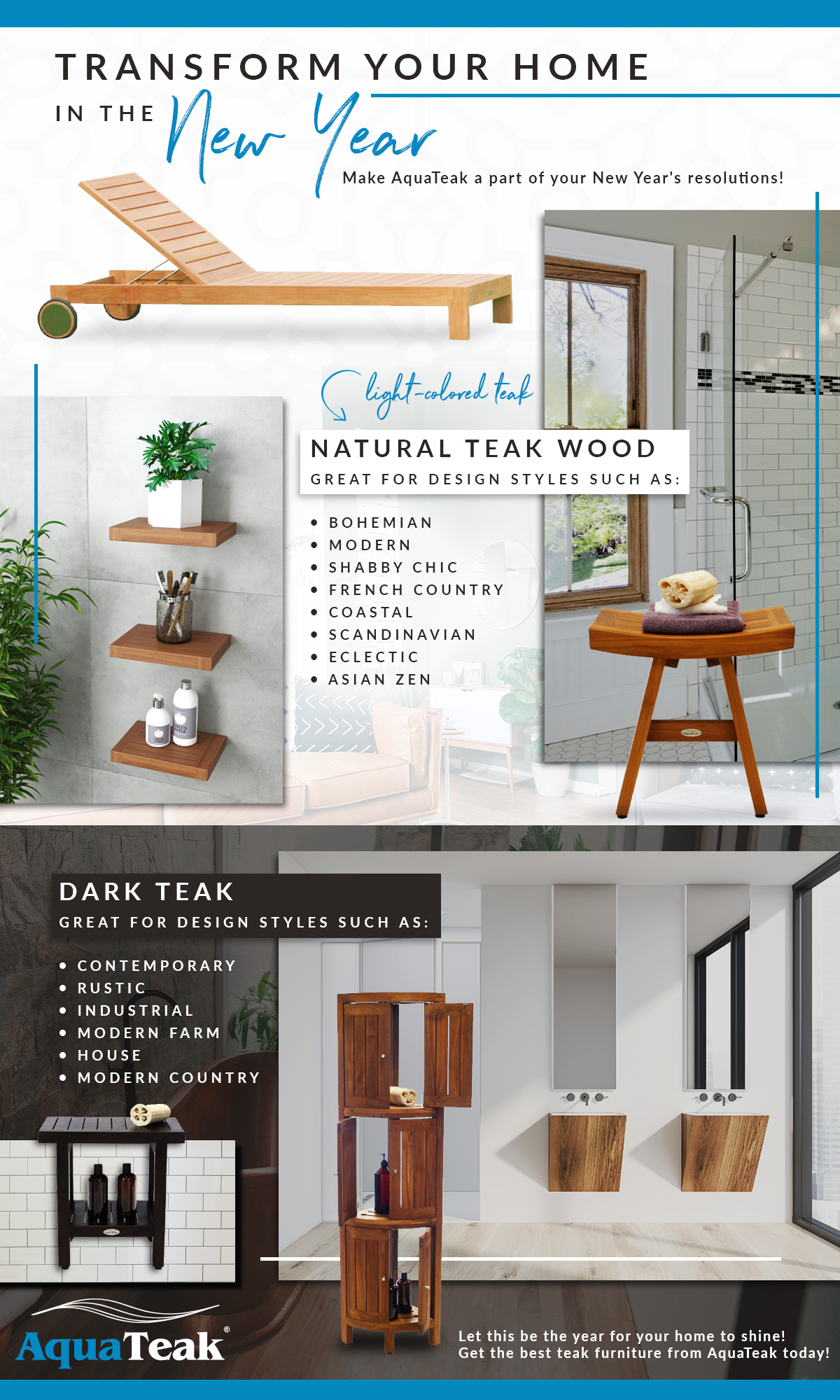 Natural Or Light-Colored Teak
Natural teak works well in a variety of more laid-back styles including boho, modern, shabby chic, french country, coastal, Scandinavian, eclectic, and Asian zen. Perfect pieces that complement these styles include:
This natural teak wood shelf has a floating design that merges perfectly with a modern- or bohemian-style home, but would certainly fare well in any of the design motifs listed above. This shelf is perfect for displaying your favorite succulent or for bath goodies in your bathroom.
18" Asia® Artisan Teak Shower Bench with Carved Leaves on Crossbar
With a beautifully carved leaf feature, this teak shower bench fits well within the Asian zen aesthetic. Great for indoor and outdoor use, it's the perfect stool bathside or poolside!
18" Wide Round Iris Teak Side Table and 24" Wide Grate™ Teak Side Table with Shelf
These side tables have the natural teak color and would look great in a coastal, Scandinavian, or french country home. Teak is naturally water-resistant, so they do great in both wet and dry environments.
This teak lounger was made to relax poolside. Its sleek design is perfect for a Scandinavian, eclectic, or modern home.

Dark-Colored Teak
Darker colored teak looks fabulous with design motifs such as contemporary, rustic, industrial, modern farmhouse, and modern country. AquaTeak carries a collection of dark teak wood choices that are ideal for these aesthetics and they include:
18" Spa™ Mocha Teak Side Table with Shelf
This is a simple side table that can be used in the bathroom for towels or other bathroom products, or it could be used in a guest room as a nightstand. This teak table is versatile enough to go anywhere and would look lovely in any rustic or contemporary home.
Planters really are the home details that can bring expert design to a space, and this one certainly has unique angles that are perfect for a home with contemporary or industrial design elements.
Molu™ Live Edge Teak Slab Table & Bench
This is an absolutely stunning teak dining table that could be used indoor or in an outdoor entertaining area. It has a rustic vibe that could be styled and a perfect fit in a modern country or farmhouse aesthetic.
Kai™ Four-Tier Corner Teak Bath Stand with Front-Facing Doors
If you love shelves but hate the way things can get cluttered, this teak shelving unit is the perfect compromise! It has three shelves with front-facing doors to add organization, yet hide any potential messes. This is perfect for a modern farmhouse or country motif.
Style Your Home With AquaTeak In The New Year
The new year is a great time to update the look of your home! Create a fresh aesthetic that is welcoming and warm while radiating an aesthetic that is functional, playful, and chic.
Browse AquaTeak's online showroom to get a glimpse of how teak furniture can elevate your space.