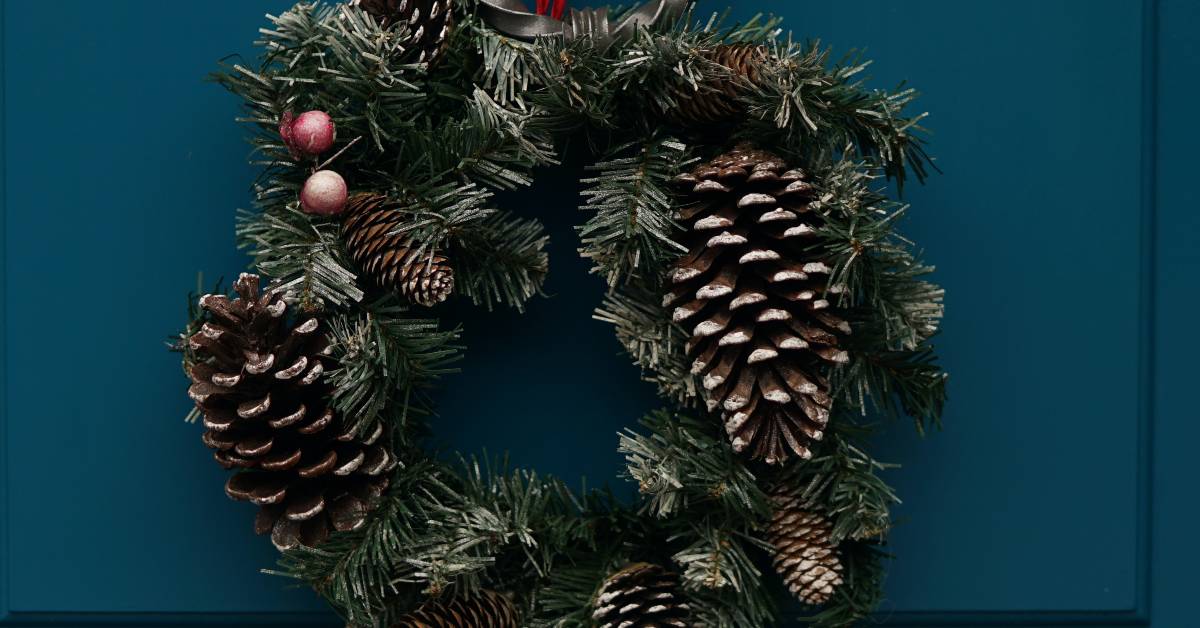 Get the ultimate holiday gifts with teak in mind!
The holidays are here — where are you in your holiday shopping? Perhaps you're ahead of the game and you have a couple of things picked out. If, on the other hand, you're like so many who wait until the last minute, AquaTeak has come to save you from yourself!
As the largest manufacturer of teak furniture and accessories, there is no shortage of gifts you can find at AquaTeak. Begin shopping today and enjoy fast shipping right in time for the holidays!
AquaTeak not only has a broad collection of teak furniture, but our practices are transparent so you can rest assured that your teak is sustainable and an eco-conscious choice for your home. Explore fun and unique teak gifts in today's post.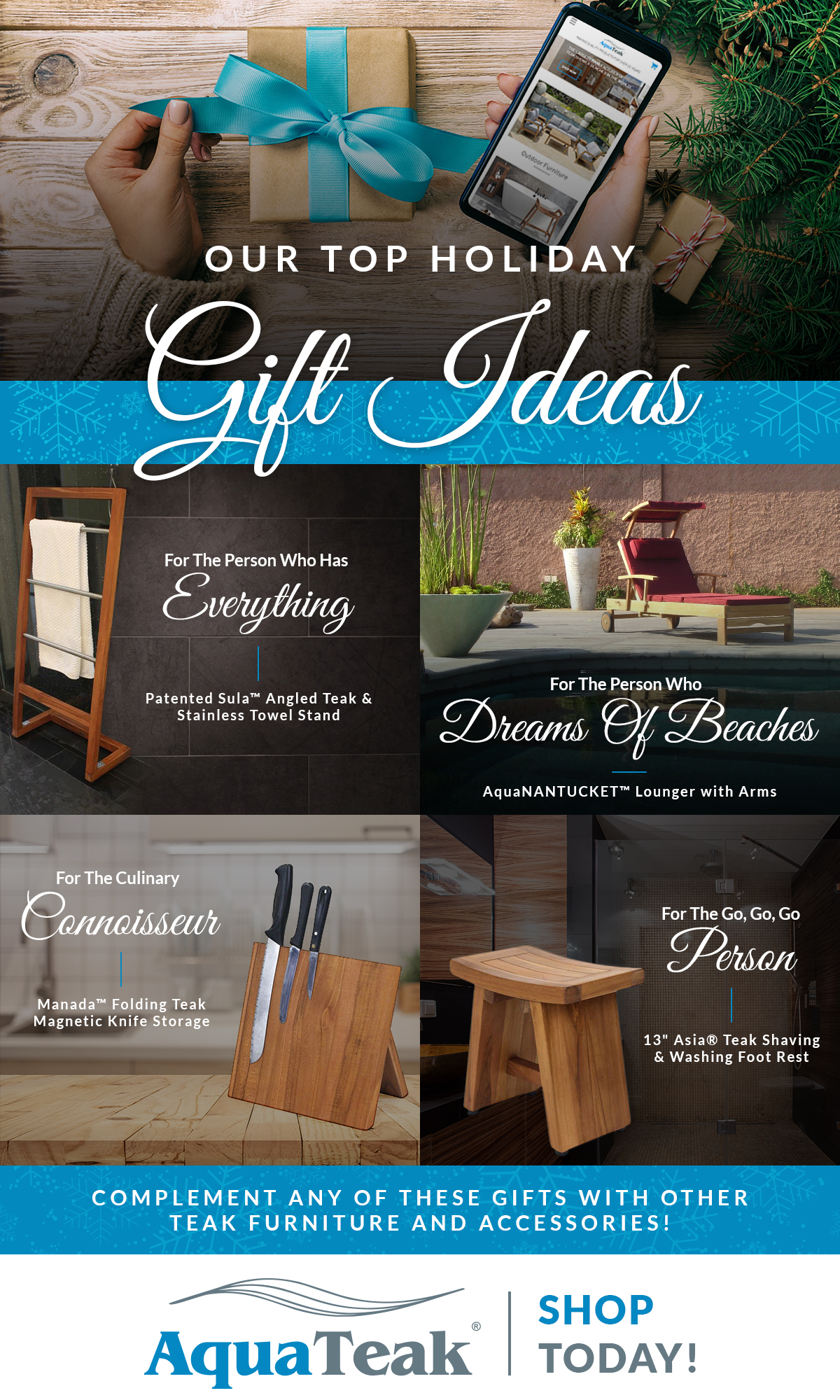 The Only Teak Gift Guide You'll Need
Teak furniture and accessories are a staple for many homes — people embrace the quality of teak for its effortless and beautiful longevity, durability, and weather-resistance. But, at the end of the day, it's really about how teak elevates your home's aesthetics, and in the design realm, it goes unmatched.
For The Person Who Has Everything
Perhaps you know and love a person who has everything, which can make holiday shopping seem impossible, but AquaTeak has some really good picks. If this person is known to buy things on a whim and has all the new coveted electronics, appliances, and gadgets, we have a different spin, and, chances are, they don't have it!
Patented Sula™ Angled Teak & Stainless Towel Stand
A towel stand, interesting right? A towel stand, however, is a bathroom accessory that you never know you really needed until you have one — it's completely underrated. How many times do you find wet towels in random places throughout your area — on the bed, in the walk-in-closet, or on the floor? This towel rack is your answer!
The frame is 100% solid teak wood sourced from our sustainable teak plantations in Indonesia, with three stainless steel rungs to hold your towels. And, it's extremely versatile. If you don't want it for towels it can hang a myriad of other items making it more personalized to them.
AquaSPLENDOR Set
Does your loved one have a thing for sleek, modern design? Then the AquaSPLENDOR Three-Seat Sofa and the AquaSPLENDOR Two-Seat Loveseat have clean lines and a chic aesthetic that any outdoor space needs more of. Update your patio furniture with teak patio furniture that's stylish and your answer to furniture that ages beautifully.
Solid Teak Stellar Corn Toss Game & Set of Eight Corn Toss Bags
A corn hole set is one thing, but is it made from teak wood? Fuse style and function for a lawn game that brings hours of fun. This is perfect for at-home use and entertaining, or you can easily pack it up for a fun day at the park, lake, or beach.
For The Person Who Dreams Of Beaches
Do you live with a beach bunny who always dreams of sunnier, warmer days? Keep their dream alive and bring the beach to them this holiday season!
AquaNANTUCKET™ Lounger with Arms
This is the ultimate outdoor lounger — think savasana after yoga on your patio or relaxing poolside while soaking in the sun's rays. It's back is not only adjustable, but it comes with arms and an attachable awning.
Add this teak daybed to your patio or poolside collection for comfort and relaxation. Easily portable, this daybed can be moved with the light so you're always facing the sun and getting maximum warmth. When you're not at the beach, this is the next best thing!
When beach season rolls around, this teak beach chair is the perfect packable chair to bring with you. The all-teak frame and sling-back seat are comfortable for reading or listening to a podcast in-between wave therapy.
For The Culinary Connoisseur
If you have a person who loves perusing kitchen stores and exploring new and fun items to better whip up their favorite dishes, AquaTeak has a variety of teak kitchen accessories that will beckon them.
Manada™ Folding Teak Magnetic Knife Storage
This is the perfect knife-storage for someone who covets their knife collection. It's made of solid teak wood and has a magnet within to keep them perfectly organized. The back folds so they can be stored in a drawer, and props open for when you're using them in the kitchen.
Manada™ Large Teak Cutting Board
While your aspiring chef may have a variety of cutting boards, there's a good chance none of them are teak! Not only is this chic enough to moonlight as a charcuterie board, but it's perfect for chopping and preparing food.
The Original Spa™ Teak Bath & Shower Mat
This is the perfect kitchen mat for any area, but it looks amazing in the kitchen! It's water-resistant, ages well, and is comfortable enough to stand on for long hours spent in the kitchen.
For The Go, Go, Go Person
Is your loved one busy and always on the go, and rarely takes time to relax and pamper themselves? AquaTeak has the best gifts to help slow and create a relaxing spa-like environment.
13" Asia® Teak Shaving & Washing Foot Rest
While we don't always have time to soak in the tub, the shaving and washing footrest is a classic from AquaTeak! You're able to stay comfortable and shed some of your tension by resting under the warm streaming water from the shower.
Moa™ Glass Suction Hook & Wall Mount
While this suctions to any part of your shower or bath area to hand wash clothes or other bath accessories, we recommend that you hang sprigs of eucalyptus to transform your bathing experience. Energize, invigorate, and cleanse your space with the effervescent aroma of eucalyptus.
Patented Sula™ Square Three Tier Teak & Stainless Bath Stand
Small and subtle, this bath stand is perfect for organizing all of your stay-at-home spa products. From candles and bath salts to scrubs and face masks, this is your go-to storage solution for everything spa related!
Set of Two Moa™ Nesting Solid Teak Serving & Storage Trays
The nesting trays can be used for a variety of things in and out of the bathroom, but they work particularly well nestled on a bath tray in or next to the bath to hold a glass of wine and some small snacks while you're soaking.
Happy Holidays From AquaTeak
AquaTeak has a broad collection of teak furniture and accessories for every space — bathroom, storage room, pool house, patio, kitchen, etc. — so you'll always find the perfect gift with us. To see our full selection of teak products, shop our complete teak online showroom today!