Posted by AquaTeak on 6th Jun 2019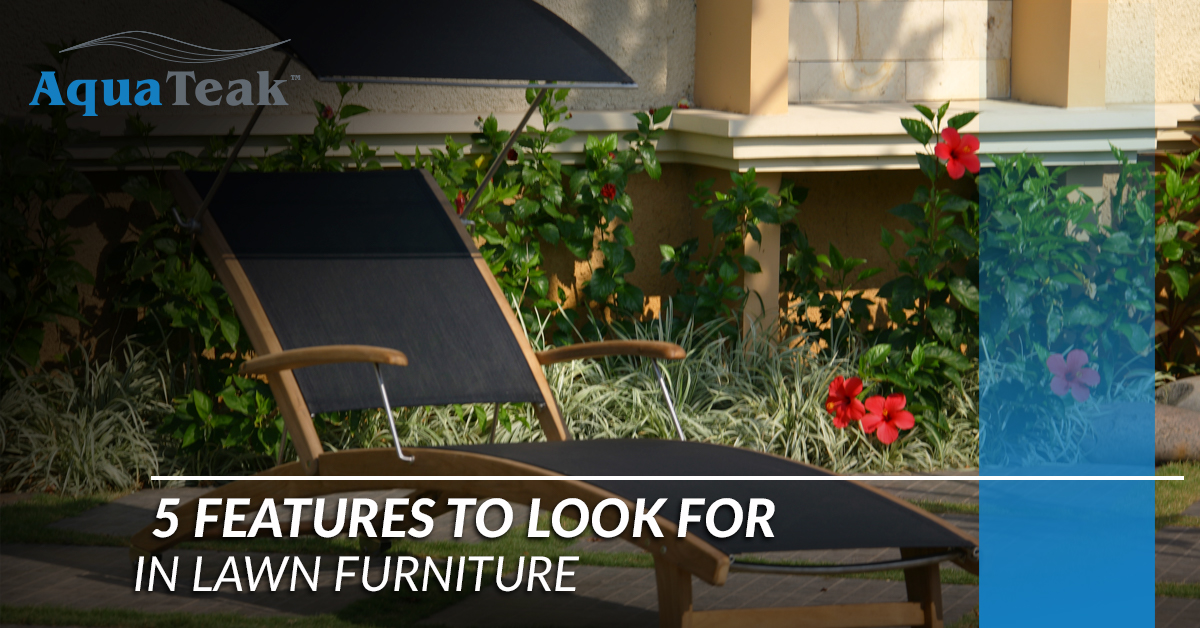 If you are investing in quality lawn furniture, you don't want to waste your money on something you will have to replace because it cannot stand up to the elements. Additionally, as a classy homeowner, you don't want to accent your gorgeous home with cheap, plastic furniture that will stand up to the elements. If you are in the market for quality outdoor furniture that is as comfortable as it is stylish and as affordable as it is durable, you've come to the right place.
AquaTeak is the industry's leader in outdoor furniture. We specialize in creating products that are elegant, luxurious, and durable. Our history is in quality bath and spa furniture created from all-natural Indonesian teak wood that does not warp, swell, or splinter in the humid environment of a shower. However, we quickly translated these impressive qualities to furniture that is exposed to other moist conditions including your pool deck or lawn.
In today's post, we will review some of the things you should look for before investing in lawn furniture, regardless of the typical environment of where you call home.
Waterproof
Whether it is the cool morning dew of fall, the sticky humidity of the coast, or the spring rainfall of the midwest, your outdoor furniture is guaranteed to be subjected to moisture of some sort. Be it your sprinklers or chlorinated pool water, you need something that can hold up to water. Your options are fairly limited to plastic, metal, and teak wood. Plastic is cheap and tends to crack or sun bleach. Metal, although it may not deteriorate in water, it can rust.
Teak wood, however, has natural oils that protect the wood from warping and swelling when wet. So much so, in fact, that Navies of the world and first-class boat builders use it to build warships and luxury yachts. Additionally, teak wood is not selective over the water it is impervious to, it will hold up as well to reclaimed well water, sea salt water, hard water, and chlorinated pool water as well as fresh, clean water. If it does begin to look a little weathered, simply clean it with teak wood cleaner and reapply a thin layer of teak oil to restore its original appearance — annually should do.
Sun proof
As we used in the example above, even the most waterproof outdoor furniture may be sensitive to the sun and dry or crack over time. Even the most durable hard plastics and coated woods can break down over time unless kept in the shade. Metal furniture will hold up much better, but will burn whoever attempts to rest on it, completely defeating the purpose!
Teak wood is naturally sun resistant and will retain its color and beauty despite even the most intense sun. To complement this feature, at AquaTeak, all of our outdoor furniture features Sunproof® and Subrella™ fabric. This ensures that your teak outdoor furniture will look as good this summer as it will next winter.
Mold proof
Furniture that is waterproof means that it will not warp or swell when exposed to moisture, but this does not take into account the mold factor! In areas of high humidity or where moist conditions exist a lot, furniture may not adequately dry out, creating the opportunity for mold growth. If you are using your outdoor furniture anywhere, you want to ensure it does not become a health hazard. Make sure it is mold proof!

Teak wood is naturally mold-resistant. A tropical wood, native of the Asian forests, it is no stranger to constant moist conditions and its oil contains an element that prevents mold growth.
Comfort
Once the above, more logistical, features are met, the next consideration should be comfort. Your outdoor furniture is meant to be used and whether it is a sofa on the deck or a bench in the garden, you don't want anything uncomfortable! At AquaTeak comfort is our passion and every piece of furniture has been designed to be as comfortable as it is functional.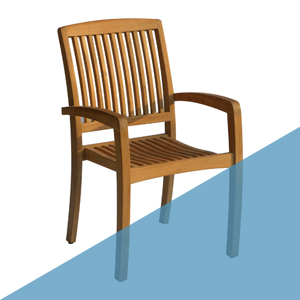 Style
While style really should be near the top of the list, it comes after the other features because you don't want to waste money on something that looks great but will be easily damaged. However, you also don't want to find something that meets everything listed above but is hideous or looks like it meets the checklist we created here. The compromise is AquaTeak's many gorgeous outdoor furniture sets. With modern design and contemporary appeal, our outdoor catalog features a design motif for every home.
If you are in the market for outdoor furniture, keep these features in mind when selecting your furniture set. At AquaTeak, we have made things simple for you by creating an inspiring catalog as well as categorizing all of our available furniture in our online furniture store for easy browsing. Shop our entire collection online and order your furniture today!