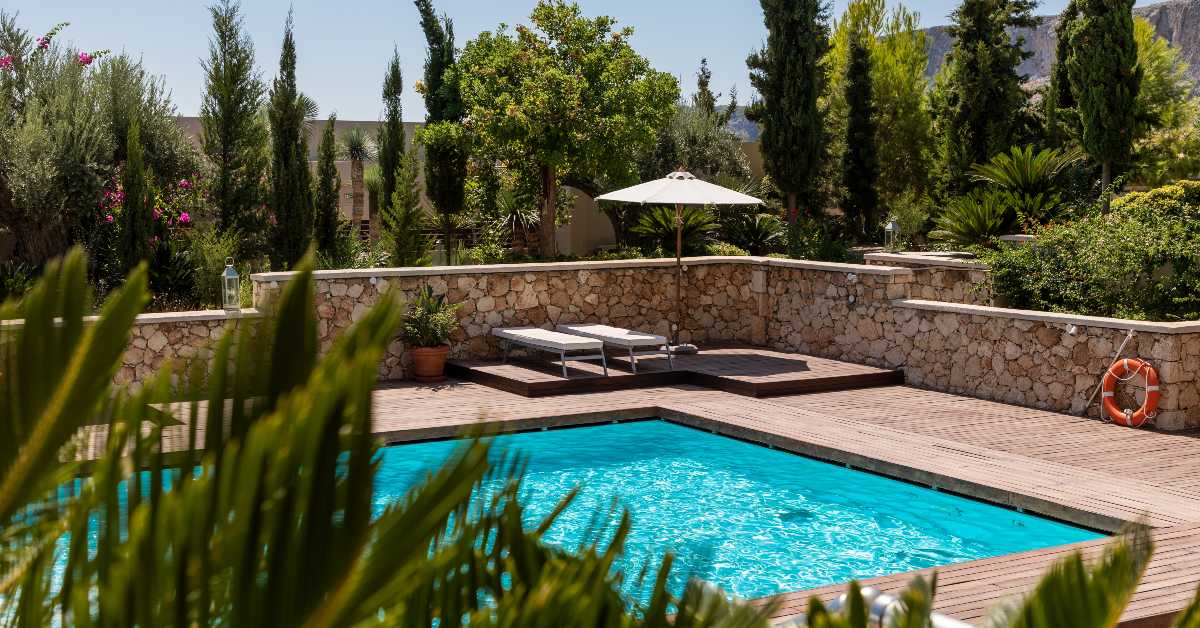 Splash around and make waves with teak furniture poolside!
If your summer activities mean soaking in the rays while enjoying the cool waters of your outdoor pool, the right patio furniture only follows.
From lounging in a comfy chaise and sipping your morning coffee or reveling in an afternoon cocktail poolside to having a space where friends and family can all come together, the patio furniture by your pool creates and sustains the ambiance.
Foster the perfect pool area with aesthetically stunning teak furniture that's durable and versatile with AquaTeak, and explore why teak may just be the best thing to happen to your pool area in today's post!
Outdoor Teak Furniture For Your Pool
Investing in the right outdoor furniture is vital because you want pieces that look amazing and complement your style, while providing all-weather protection and toughness that lasts.
This is teak!
Outdoor teak furniture is the investment with longevity and lasting style. Teak coordinates with any decor, and is neutral enough to be updated for future design inspirations. But, why do people really put teak poolside?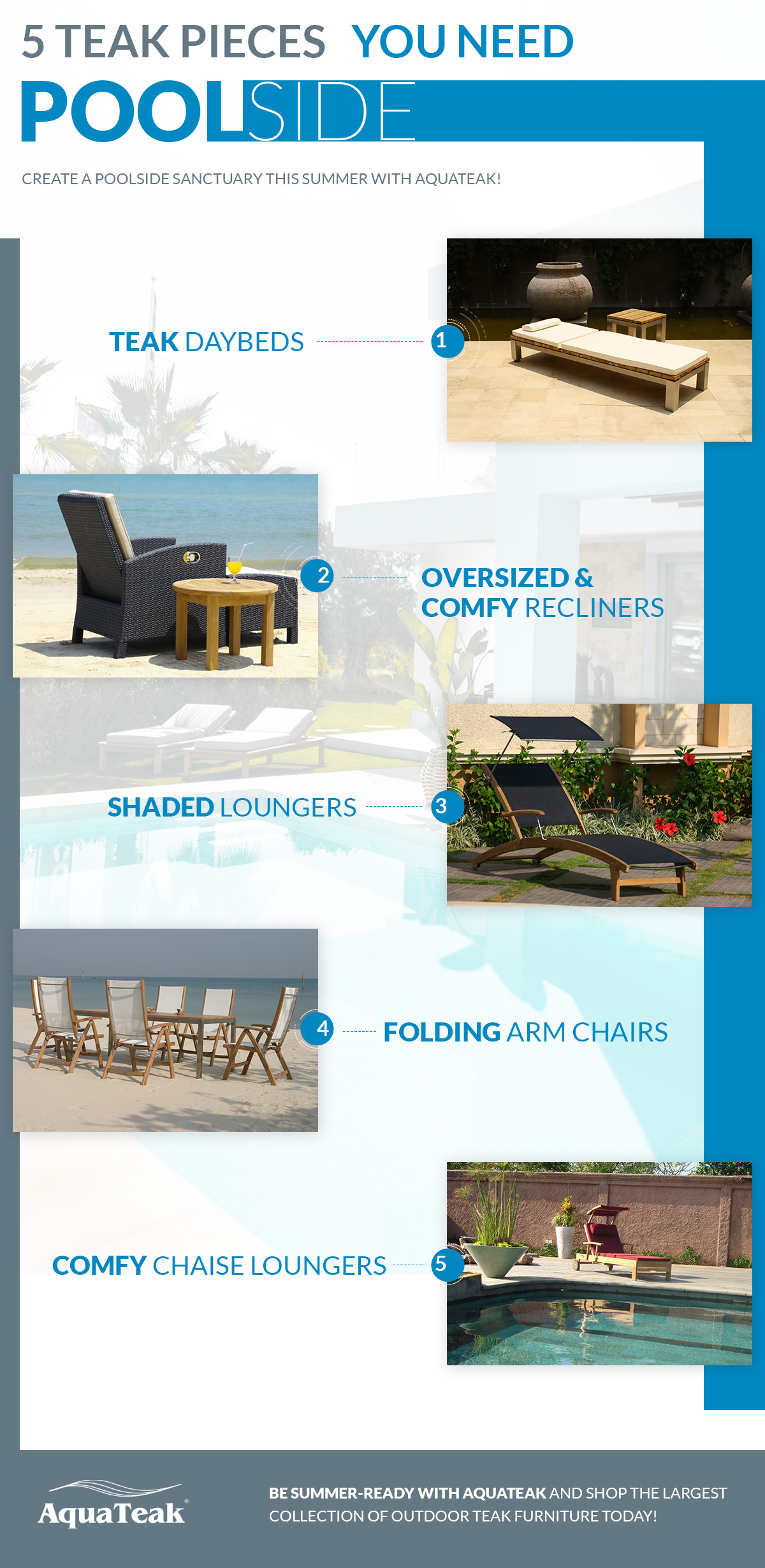 All-Weather Toughness
Teak is naturally of the most durable and strong hardwoods where performance is ingrained in its wood grains!
The tight wood grains and high oil content combats all types of weather your outdoor teak furniture will experience, so even if you live in an area with all four seasons, teak is your go-to for all-weather toughness.
Temperature-Controlled
What many people don't know about teak is that it's self-regulating when it comes to the temperature and environment it's in. In the summer, it stays cool, and in the winter it stays warm.
Why does this really concern outdoor furniture? While you may not be using your teak outdoor furniture so much in the winter, this property is highly relevant in the summer.
How many times have you taken a dip and are ready to relax when all of a sudden you burn yourself on the metal patio furniture? Not fun at all. With teak furniture, it doesn't get hot and you won't burn yourself, even if it has been sitting out all day in the scorching sun.
This is a benefit for everyone who is poolside, but can be a great safety hack for small children in preventing burns.
Water-Resistance
Teak is naturally water-resistant making it the top choice in outdoor patio furniture, especially for pieces you're putting in the pool area. Never fret again about human cannonballs or large splashes that make their way outside of the pool because teak doesn't mind!
The integrity is never compromised no matter how much water or moisture it endures, and you'll never find rusted bottoms that ruin concrete, not to mention the metal patio furniture that has to constantly be replaced!
Durability
Whether you're sitting at a teak bistro set or lounging in a modern teak loveseat, when you're poolside, beverages are a must. Not only can teak take the heat — and the rain, wind, and snow — it beautifully handles any spilled beverages in stride.
Spill after spill, teak can stand up to your drinks and any pool splash zones like a champ! Simply wipe down or hose off your teak patio furniture, and it does the rest — teak is effortlessly durable!
Embrace The Balance Of Beauty & Longevity With Teak!
Summer is here, so get your outdoor teak furniture order in! Don't go one more day with pool furniture that is unchic and crumbles within a season. Instead, choose teak furniture to liven up your space for years to come!
Shop AquaTeak today!